LIMITED SUPPLY LEFT!
Ready to obliterate the competition? Time to rise up the ranks on famous titles with this state of the art gear. It is a necessity if you want the edge on your opponents to score those wins.
Gamepad features:
Adjustable distance to support all sized devices
Internal cooling fan 
Capacitive conductive silicone
Foldable buckle to rest on surfaces 
Reversible buttons
Ability to charge the device while in use
Limited supply left - Sells out fast!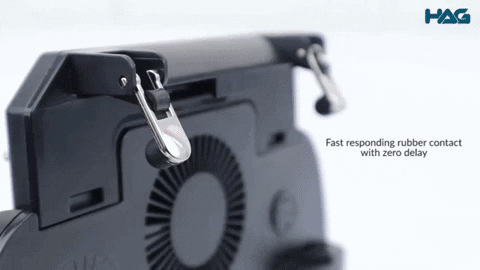 You might be wondering "Why not just game with your fingers?"
We offer an internal cooling fan. This keeps your handheld device cool whilst you game. Stay cool, play cool. No other devices offer such a feature. Meaning your device can push out those high-resolution graphics and frame rates without suffering from high heat.
While your fingers control your scoping and shooting, you are able to simultaneously move without having to take your fingers off the device. 
You can have the edge in speed when it comes to locking in on an opponent and shooting your shots with the conductive silicone to get the fastest reaction time for when it comes to that tense standoff.
The ergonomics of our controller are specially designed to help you be able to play for extended periods of time, meaning you can keep winning for longer.
Worldwide Shipping & 100% Money Back Guarantee.
Our Guarantees:
Not happy with the product? No worries, you're covered by our hassle-free returns policy.
Safe, secure and encrypted ordering. All of your information is GDPR compliant and protected by SSL and banking-grade encryption
Real, live human support if you'd like to contact us
We're backed by thousands of satisfied customers. Check out our reviews below!